Who says Valentines Day is just for couples?! 
We believe it's the perfect time to show yourself some love too! It can be so easy to forget to really take care of, and love yourself, so we wanted to
put together some of our favourite ways to show ourselves a little lovin'! ❤
1. Pamper yourself! Pick up some of our collagen under eye patches and a collagen lip mask, light a Anitako candle (50% off for the month of February!) and run a bath. Alternatively, get your favourite snacks and watch a movie you really enjoy or those so-bad-they're-good reality tv shows (think Kardashians or Real Housewives). Honestly though, whatever your idea of pampering is, do that!! 
 2. Take yourself on a date! You deserve it 😜 Seriously though, when was the last time you just sat somewhere alone and enjoyed it? Check out a movie, go to your favourite restaurant, people watch at a local cafe... just enjoy spending some time alone ❤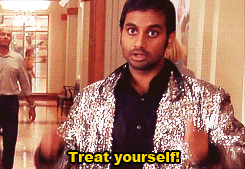 3. Quite literally, treat. your. self. Get that jewelry you've been eyeing, or a new clothing item that makes you feel like a million bucks ✨
I mean who doesn't love a little retail therapy? 
4. Take a second to breathe and join a yoga class or just simply meditate! Murrae recommends the app 'Calm' for meditating. Either of those things give you some time to reflect on the positive in your life and stay in the present. 
5. Find a hobby, if you don't already have one! If you already have a hobby, maybe teach yourself a new technique but if not, just take some time to teach yourself a new skill! It is so incredibly gratifying, to finally master something that you've spent your own personal time on. 
 Hopefully we could inspire you to give yourself a lil bit of lovin'!
Love from, the girls at Le Petit Lapin ❤
(P.S. Comment your favourite way to pamper and love yourself, we'd LOVE to hear all about it ✨)
Please reload